Diabetic Alkaline Lifestyle Home Study Course by HealtheSolutions
Diabetic Alkaline Lifestyle Recipe e-Books by HealtheSolutions
The Cancer Journal Heal Yourself ~ Holistic Nutrition for Cancer, by Lisa Robbins, BScHN, RHN, CTT, Holistic Nutritionist and Researcher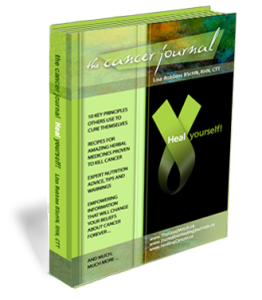 "I'm reading The Cancer Journal Heal Yourself! It is sooo true and sooo wonderful. A must read for everyone. I just wish all the oncologists and doctors in the world were forced to read it!" Kristen Totten Barry, www.healthycancerchick.com
*****     "Loved this book." Amazon Customer Verified Purchase
*****     "Exactly as promised. Thanks." Naomi B. Sinnreich Verified Amazon Customer
"When I was reading this book, I couldn't put it down. It was written very clearly and in language that I could understand. The true stories of individuals who had conquered cancer are amazing. I always had thought that there were natural ways to overcome this disease. I am happy to say that I was thrilled to see them in print. The descriptions of the herbs and their healing abilities are very helpful and the recipes are very clear and concise and I will surely be trying some of them. I have been hearing of these natural remedies for cancer and am pleased to have found this very helpful journal of not only cancer remedies but of natural way to keep our bodies in good health. I highly recommend The Cancer Journal ~ Heal Yourself to anyone and everyone who is interested in becoming healthy and staying that way." Gail Robins Certified Aromatherapist, Reiki Master, Owner at The Robins' Nest Retreat, Norwood, Ontario
Hi Lisa. Just wanted to update you on the spot of malignant melanoma on the back of my neck…Dr. Mok removed the area around where the biopsy was 2 weeks ago today…It had come back as "in situ" which means it was only in the spot it started and had not spread at all. I go back today to have the stitches removed. This is one of the most positive experiences I have had as the week leading up to having it removed and not knowing if it had spread at all or not…I made and drank your tonic tea mixture, did positive affirmations, bounced on my rebounder, had vitamins and shakes, had my crystals with me, so I know if anything else comes my way in the future, I know I can heal myself. Plus I am now going to be more sun conscious and make sure I apply sunscreen when out for any length of time in the beautiful sun 🙂 Thanks for meeting me that day and for writing your books…xo Jackie Burfield
What a wonderful book. I wish that I had been able to access a copy of it a few years ago … it is very well written and explains so much for people who need information about cancer, and for people who know someone that has been diagnosed with cancer. I would strongly recommend this book as it is a valuable resource of information about cancer. Pebbles Baverstock
"Just a quick note to say hello and to let you know that my husband and I have recently been reviewing your book "The Cancer Journal Heal Yourself", lent to us by a friend.  It is so interesting and informative it has been hard to put down. We believe and agree with what you have to say about natural healing and the taboos of chemo and radiation.  A dear friend of ours has just been diagnosed with lung, lymphatic and bone cancer.  He is only 52 years old and has never smoked in his life.  We are sickened by the news and are reviewing every piece of info we can get to help him to survive.  His first chemo treatment was yesterday and it sickens me to think what that is doing to his, formally, very healthy body.  Thank you for your insight, your honesty and your priceless information.  I will continue to research any other information you may have, but honestly, you have pretty much summed it up with the fact that the pharmaceutical drugs they push on us these days are money making, body damaging and disgusting, given the fact that the medical profession knows there are less extreme and very natural ways to heal and perhaps even reverse the effects of disease.  It is a shame that greed must overtake healthcare. What a society we live in!" Lori C.
"Invaluable Resource! Lisa describes the true stories of people who elect to try holistic treatments in their healing journey, and their successful recoveries give us much-needed inspiration and optimism. Included is an invaluable guide to healing herbs, the recipe for the herbal combination 'Bitter Tonic Tea' with its powerful anti-cancer and anti-fungal properties, and the 10 Key Principles of Healing. Lisa's enlightening book is a blessing in both reclaiming the truth about the cancer epidemic and giving us hope for alternative and powerful healing methods. As Lisa says, 'becoming educated about cancer and the politics surrounding it has been the best thing I could ever have done to protect myself and my family.' With valuable information not found elsewhere, and appendices to herbs and their properties, essential recipes and essential resources – Highly Recommended." Pegi Eyers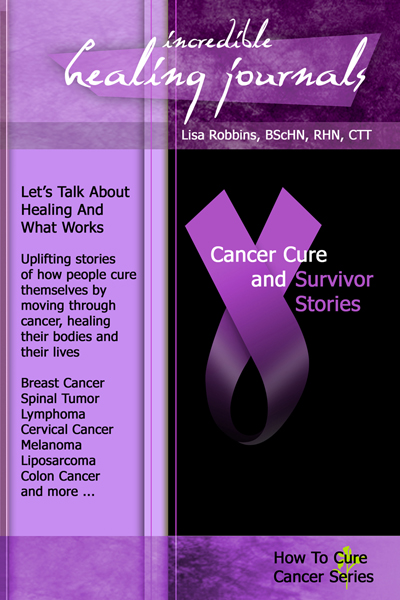 Our first collaboration of ten amazing healing stories from www.IncredibleHealingJournals.com is now available!! Listen as self healers tell their uplifting stories of exactly how they cure themselves by moving through cancer, healing their bodies and their lives. Stories told by healers of Breast Cancer, Spinal Tumor, Lymphoma, Cervical Cancer, Melanoma, Liposarcoma, Colon Cancer and more. Available in Print for only $17 and Kindle for only $7.99.
How I Cured My Tumor Naturally by Dr. Sue Gelder, Consultant Naturopath, Managing Director at Edenique Complementary Healthcare
An amazing story of how one woman with an extremely painful terminal condition fought her way back to health. Beyond medical treatment, bed bound and unable even to sit up and with no knowledge of how to cure herself, Sue came face to face with the unthinkable. She reveals the secrets on how she overcame the challenges and made her tumor disappear.  Though Sue's recovery has dumbfounded the doctors she now understands both the power of the mind and the healing ability of the body when given what it needs to repair, renew and destroy. Intuitively, she used the law of attraction and visualization to help achieve the result. Sue also offers additional information that at the time was unknown to her but has been scientifically proven to be of benefit in many tumor conditions.
Brenda Cobb, Founder and Director of the Living Foods Institute, overcame breast and cervical cancer without the use of chemotherapy, radiation or surgery by following the simple principles that are taught in her Healthy Lifestyle Programs. Not only did Brenda cure her own breast cancer and cervical cancer, she eliminated allergies, migraine and sinus headaches, acid reflux, indigestion, heartburn, rheumatoid arthritis, age and liver spots, and improved her eyesight and gray hair. Brenda now devotes her life to educating and helping people from all over the world to overcome many different kinds of 'dis-eases' at the Living Foods Institute.  
This book is about Elaine's journey with aggressive breast cancer and her son's Type 1 Diabetes. Elaine's fascinating discoveries have linked Type I diabetes with epilepsy and cancer with epilepsy as well. She modified the traditional ketogenic diet used at Johns Hopkins Medical Center to treat epilepsy. Once Elaine tweaked the diet for cancer, her own version of the diet  caused a breast cancer tumor to dissolve in approximately two weeks. Elaine also tested her modified ketogenic diet on her son who has been Type 1 Diabetic for most of his young life. He was able to eat without needing any insulin and without doing any calorie restrictions. "This is my diet of hope, along with the research that comes from my heart, that I am sharing with you." Elaine Cantin.
Coming Soon!
INCREDIBLE HEALING JOURNALS Presents:
CANCER CURE AND SURVIVOR STORIES in Audiobook!

  Listen well you walk, clean or work…
Cancer Cure and Survivor Stories, Volume 2